Post by wyldephang on Apr 11, 2013 3:42:04 GMT -5
You know what I really like about this forum? That we can have in-depth conversations about any topic related to video games--from coiled cords to Asteroids clones, everything is fair game. That's why I'm excited to debut a topic that has interested me for years: video game music. If I'm not careful, this could become the most prolific thread on the forum based on my contributions alone; I could meditate on this subject for hours! But I'm interested in hearing your opinions, especially those tunes that have best characterized the "golden age" of gaming for you.
I'll get this thread off to a strong start. The first game on my list is
Lightening Force
(Thunder Force IV) for the Sega Genesis/Mega Drive.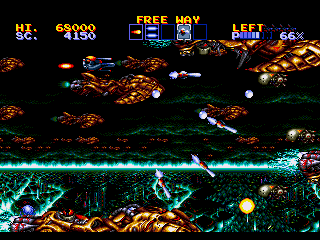 "Sand Hell (Stage 4A)"
"What? (Stage 1B)"
"Attack Sharply (Stage 2 Boss)"
What do I like in video game music? Ripping bass lines; powerful melodies; rich, shimmering chords. Oh, and heavy metal guitar riffs--can't forget those! As is turns out, I have a lot of reasons to love Lightening Force; it's an A-list shoot-'em-up and the entire soundtrack stands out as a technical achievement in FM programming. Sure, the Genesis suffered from poor sampling capabilities, but Lightening Force's programmers made up for it by tweaking each voice to give every composition a unique feel. Overall, the soundtrack consists of one of the most impressive FM sound palettes in Genesis history.
The next game on the list is
Demon's Crest
for the Super Nintendo.
"Memorial of the Fallen Ones"
As Firebrand, a fallen gargoyle on a quest for vengeance, you visit the dark, ominous atmospheres of Gothic cathedrals and cemeteries, fighting ghouls and other monsters along the way. Appropriately, the accompanying soundtrack consists mostly of eerie church organs. It's a very consistent effort from Capcom, a studio renowned for its memorable music.
The last game for now is
Final Fantasy III
(Final Fantasy VI) for the Super Nintendo.
"Cyan's Theme"
"Setzer's Theme"
"Dancing Mad"
Listen to all the tracks, but especially listen to "Dancing Mad," the star attraction of the game and arguably Nobuo Uematsu's magnum opus. This multi-part composition clocks in at a cartridge-bursting 17 minutes long and incorporates many of the recurring musical themes scattered throughout the game. Uematsu is my favorite video game composer, and I'm certain I'll be pulling out more of his classics later.