Post by VectorX on Nov 12, 2011 13:25:23 GMT -5
I went to night #1 last night. I'm leaving soon for most of a day of gaming

This is the 10 year anniversary of the local show, having old (going back to the 1930s!) entertainment machines, pinball, coin-op video games and home systems, along with door prizes, tournaments and all.
I played some Tron (both, the regular AND Discs of were there), Bubbles (tabletop version?! I'd never seen one!), Defender, Pac-Man for the first time in over 20 years, Reactor, Phoenix, Krull (whoa...movie supposedly wasn't very good, but I made it through all five stages to the point where it started over!), Asteroids, Asteroids Deluxe, Satan's Hollow, the Joust pinball machine, pinball machines of all kinds and ages (the Avatar one's pretty good), some gambling machines (shame, shame! Gives me a taste for what Vegas is like...minus having a damn cup or sack around my neck...if I ever go), home consoles, lotta stuff.
An Apple II was there as well, and it was my first time playing Midnight Magic on an Atari XE ever. Interesting. First time playing the ColecoVision version of Bump 'n Jump too, along with K. C. Munchkin (I've hardly played any O2).
Nice to see I can still crank it out on the Grid Bug and Tower screens of Tron, but I got some pain with all the rapid firing of my trigger fingers (plus my legs hurt with all the standing and shifting around for hours too!
). Nice to break 100,000 though, even though I had forgotten my Light Cycle and Tank patterns (I could literally get nine times that score back in the day).
It was also nice to be able to buy some stuff, for once: there was a really cool Space Invaders bag that I'll put up a pic of later. I just asked out of curiosity how much it'd be, figuring it'd be like $10-12 or something. Three dollars?! (*# yeah!
I also have four buttons sitting right here, being the birds that hatch from eggs and the mother ship from Phoenix, the saucer from Asteroids and the one from Space Invaders...50 cents each. I'll get a t-shirt today too...maybe Major Havoc.
But who cares, lets see some pics dammit!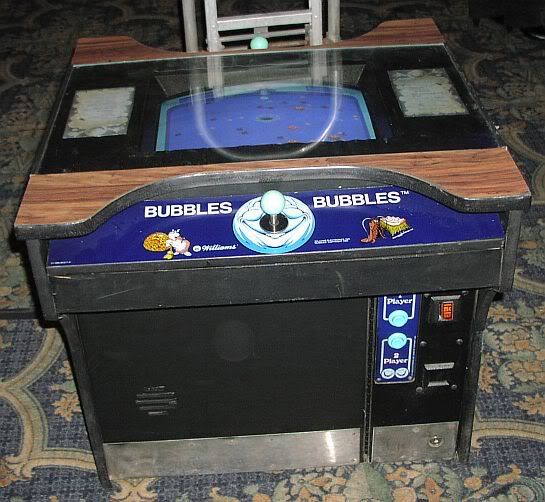 Here's that Bubbles tabletop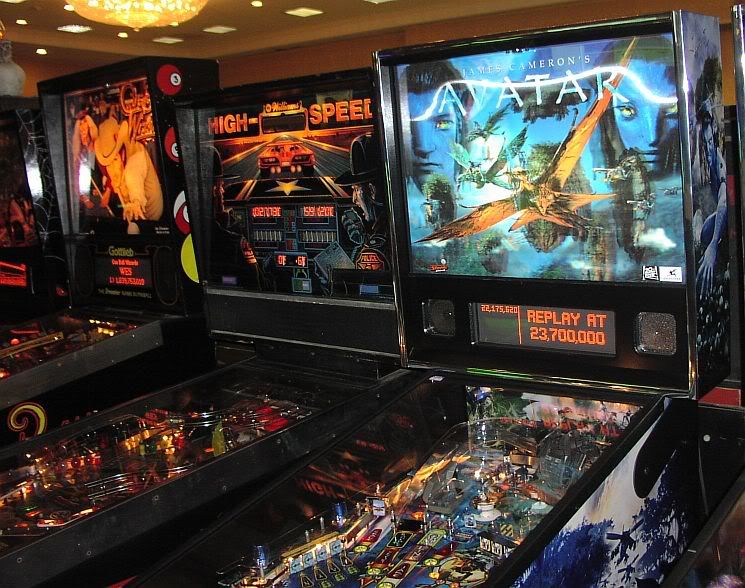 Don't think I played High Speed since college...and I know Avatar was a lot more recent than that! Like not even 24 hours ago!
ColecoVision, Atari 5200, Apple II
For the last few years, a local Star Wars group comes in full costume (Storm Troopers pic didn't come out; I'll try again tomorrow). Why this Ghost Busters guy was there is beyond me though
The one-armed bandits vs. the two-armed bandit. Winner? Me! Video games are more fun!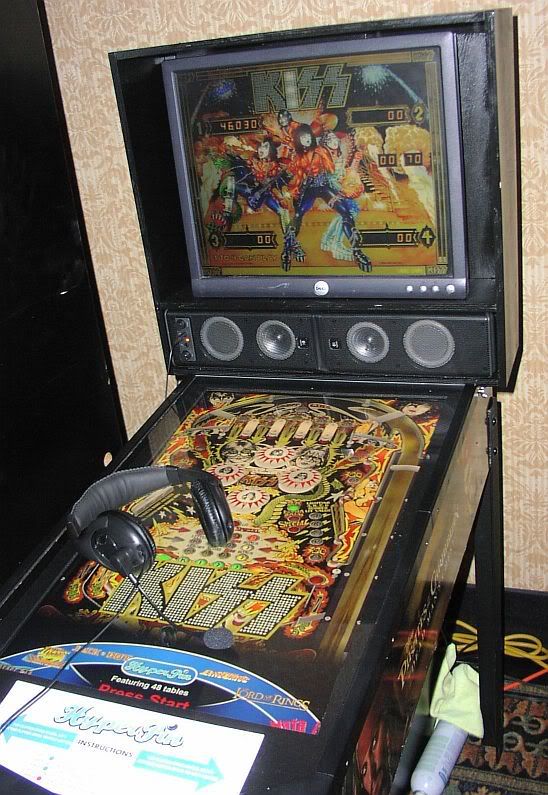 Look real closely at the playfield here. Maybe you can't tell by the photo, but it's all FLAT. That's an artificial pinball machine (i. e. computer generated), having dozens of tables on it. I couldn't get it to start but maybe today...
T-shirts, and the Pac-Men monsters and Berzerk robots at left are soap!