Post by hcmffm on Oct 8, 2015 23:57:27 GMT -5

Latest info:Status:
Vector War V is over. This year's winners are:
1. coleco1981 (100%)
2. VectorX (99,9%)
3. Chainsaw (99,3%)
Score code
Score code valid till end of tournament: MAGIC
Highscores: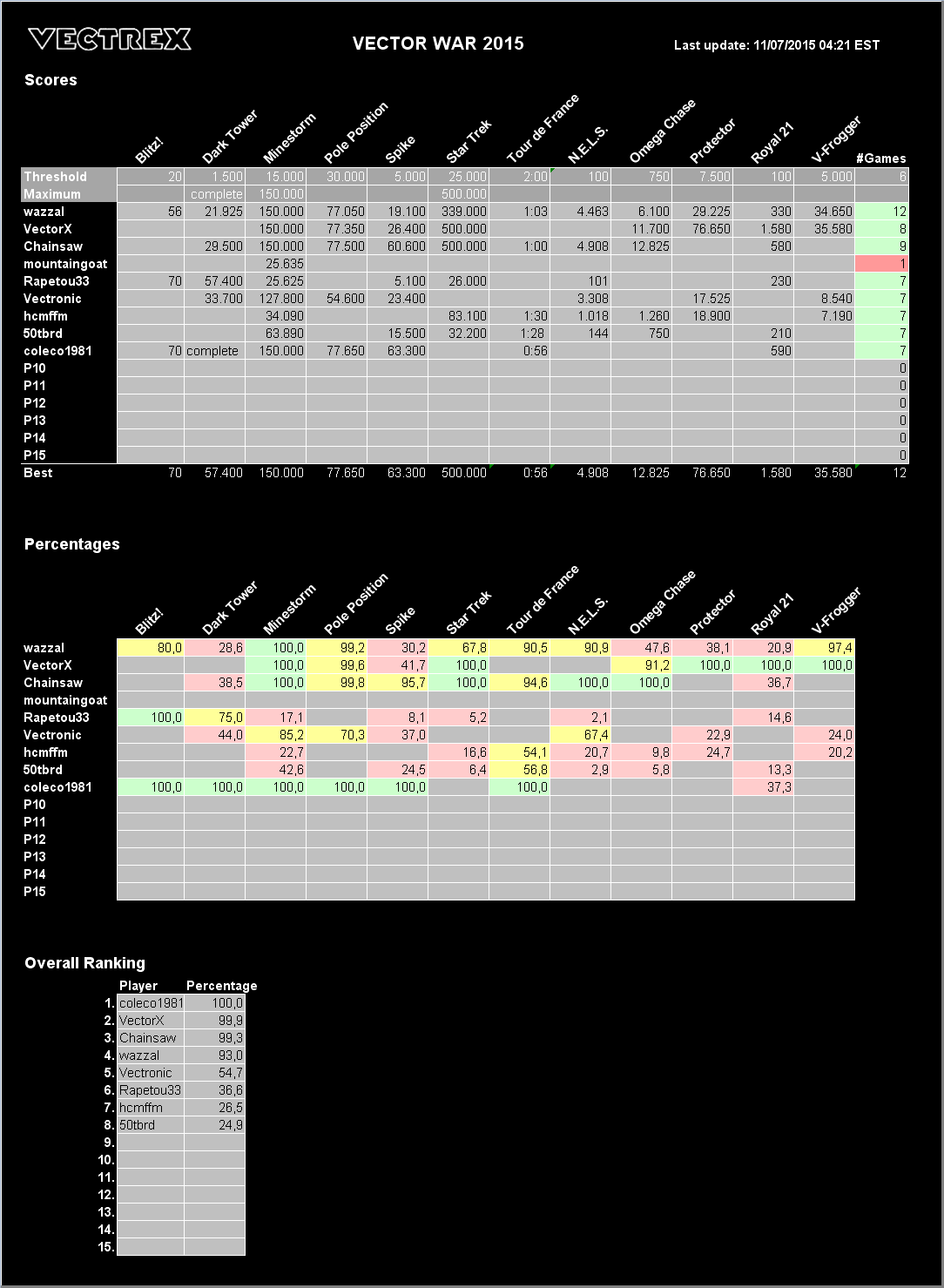 Five years ago, Rob Maerz, well known in the Retro scene, initiated the Vector War. The Vector War is a yearly Vectrex game tournament; Vectrex players all over the world participate. This year's Vector War V lasts one week and will take place
from 30st October till 7th November
. Please note that 1st November is the
Play Your Vectrex Day
(PYVD).
Below, please find all details about the Vector War V. If something shouldn't be clear, do not hesitate to ask here in this topic or send me a PM.
Games list:
Please note that for qualifiying only 6 out of 12 games need to be played. The first number in round braces is the threshold score (=minimum score), the optional second number is the maximum score.
GCE/MB
1. Blitz! (your score minus computer's score: 20)
2. Dark Tower (Game 1, 1.500, maximum: Game 1 completed)
3. Minestorm (15.000, maximum: 150.000)
4. Pole Position (30.000)
5. Spike (5.000)
6. Star Trek / Star Ship (25.000, maximum: 500.000) - Star Trek, if possible
7. Tour de France (02:00 min)
Homebrew:
8. N.E.L.S. (100)
9. Omega Chase (750)
10. Protector (7.500)
11. Royal 21 (100)
12. V-Frogger (5.000)
Info and Rules:
Begin of Contest: Friday, 30. October 2015 00:00
Eastern Standard Time (EST, UTC-5)
End of Contest: Saturday, 07. November 2015 18:00
Eastern Standard Time (EST, UTC-5)
Current relevant time can be found
here
.
Qualification and Participation:
To qualify for the contest you must play and submit scores of 6 games of the above game list.
To submit a score:
Check here what the current score code is.
Play a game and try to achieve a score which is higher than the threshold score of the appropriate game. The threshold score of a game is the number in round braces in the above game list.
Take a picture of your score including the current score code and the name of the game on-screen (if possible) and post it here:
a.) Upload your picture to a free file hoster, see topic Free file hosting.
b.) Click on the "Reply" button and place the link provided by the free file hoster. Please use the "Preview" and check your posting and the correct display of your highscore image. If everything is fine you click on "Create Post" button.

Notes:
You can submit an arbitrary number of scores per day. There's one exception; on the last day of the tournament you can submit scores for two games of your choice, only.



Playing time per game is limited to 1 hour. If a game can be marathoned (i.e. played for more than one hour per game), a maximum score will be set by the organisator.



Once you are qualified, your overall rank will be calculated and kept up-to-date.
Score code:
Whenever you take a photoproof of your highscore, make sure you include a small paper with the current score code in the photo. Only photoproofs with visible and matching score code will be valid. Score codes may change from day to day, so make sure that you first lookup the current score code before taking a photo.
Gaming Rules:
Games must be played on original hardware. This means original Vectrex console and Vectrex controller. If a player doesn't use an original Vectrex controller for some reason he/she should please indicate this when posting his/her first scores. Not allowed are paddles or sensitivity-adjustable controllers, autofire dongles, autofire joysticks, or the usage of several types of controllers.


Players are asked to play fair and must not use cheats. E.g. Spike has a known bug which allows for cheating. And N.E.L.S. is reported to have a cheat, too.


Prizes:
1st Winner: Vector War T-Shirt + Coupon for three games (max. $75) offered by Packrat Video Games*
2nd Winner: Vector War T-Shirt + Coupon for two games (max. $50) offered by Packrat Video Games*
3rd Winner: Vector War T-Shirt + Coupon for one game (max. $25) offered by Packrat Video Games*
Random prize**: Coupon for 1 game (max. $25) offered by Packrat Video games*
*Costs for International shipping are also covered.
**Random prize will be drawn amongst all qualified players except the 1st, 2nd, and 3rd winner.
Availability of Games:
For qualifiying in Vector War V you have to play 6 games listed in the game list above. It can be a bit of an advantage if you have more than 6 or even all 12 games at hand.
All original GCE/MB titles can be found on various multicartridges (e.g. Sean Kelly, AC 32-in-1, Madtronix, ...)
V-Frogger is sold by Packrat Videogames and available on most multicartridges (e.g. Sean Kelly, AC 32-in-1, Madtronix, ...)


Protector is sold by Packrat Videogames and FAIK one of the many games on Richard Hutchinson's VecMulti.


Royal 21 is available as binary via download. You will need a VecFlash or VecMulti for playing the binary on original hardware.
N.E.L.S. is sold by Luchs Soft
Omega Chase by Christopher Thumber is no longer sold.